We've come a long way from a hole in the ground where wood was burned. Once upon a time, people would gather round a fire pit to socialise, cook, share food and keep warm. Nowadays, natural stone fireplaces are still bringing people together.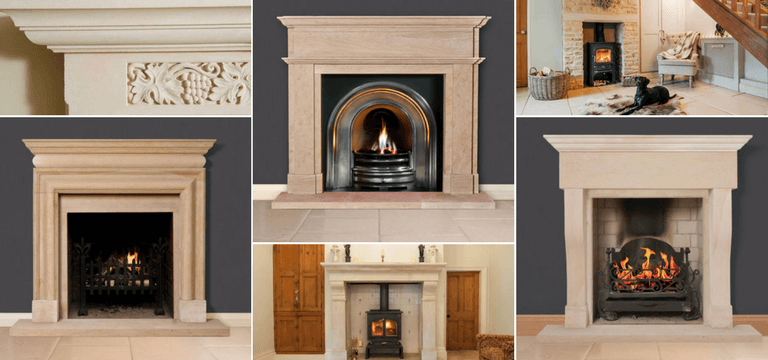 Fireplaces as a fusion of form and functionality
Things changed in the sixteenth century. As homes started to have a first floor, chimneys were introduced so that heat could spread. Architects started to consider how fireplaces could benefit the home – and this was the beginning of the fusion of form and functionality.
The eighteenth century saw fireplaces as an integral part of the home. As a result, their status changed. Structurally, they evolved into two separate parts. The surrounds were made from marble and granite (for the wealthy) or wood and the insert was built from cast iron. Tiles, motifs and decoration became popular.
The twentieth century saw the arrival of inglenook fireplaces. The style was influenced by the Art Deco movement's use of modernism combined with ornate décor – highly polished chrome and lacquered wood. The 1960s may have seen the rise of flower power. Inside the home, however, fireplaces were often made out of concrete with brick effect tiles.
Currently, we're seeing a renaissance for simple fireplaces. Natural stone transcends the gap between old and new, traditional and modern. And as for stainless steel fireplaces, they're a matter of taste. We prefer our steel in cutlery…
However, there's no denying that a beautifully designed and hand carved natural stone fireplace remains a fantastic focal point for your home. A true investment that will stand the test of time.
Quality that endures
Consequently, there's a move away from mass market to unique and bespoke. From transient to enduring. Every one of our fireplace surrounds is made to order, using material that is by its nature exclusive and original. Just as our homes are unique and reflect the way that we live, our choices and our aspirations.
Like any natural material, limestone improves over time. The years that pass simply add a warm patina, giving your stone fireplace unique character that softens as it matures.
Sustainably sourced, locally quarried
Another reason to choose natural stone is because we source and quarry our limestone from the famous Lincolnshire oolithic belt – a world away from the cheap, imported stone. When raw material is available without a big carbon footprint, with less than 20 miles to travel from quarry to production site, there's a great deal of satisfaction involved.
People these days care increasingly about provenance and sustainability – respecting the environment, protecting resources and acting with integrity. We do, too. You can find out more about this in our Sustainability video clip.
So why not take a look at our collection of natural stone fireplaces? You'll find a wonderful range of both classic and contemporary fireplace surrounds hand carved from our beautiful limestone – sourced and quarried locally.
Our skilled craftsmen are experienced in creating a wide selection of styles – from historical reproductions to minimalist, contemporary designs – and they all come with complimentary side panels and hearths.
For specialist advice about the best fireplace designs for your home, talk to our friendly team on 01780 740970 or contact us online today.