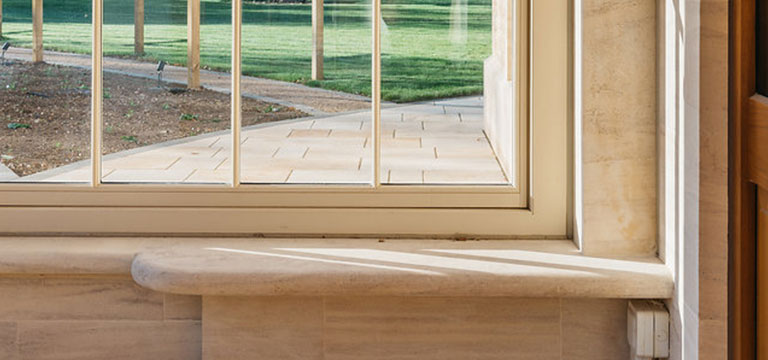 The most common window sill material used in the UK is undoubtedly wood. Ceramic tiled window sills are often seen in bathrooms and kitchens. In this article, we'll explore a beautiful, alternative option that's becoming more and more popular these days – natural stone window sills.
First things first, though. Before we look in more detail at natural stone window sills, there's an important point to clear up. Whether we're talking about wooden, ceramic-tiled or even limestone window ledges, there seems to be some confusion over the spelling! Is it a window 'sill', or a window 'cill'?
Helpfully, the Oxford Dictionary seems to allow both options, with 'sill' being the most common modern day spelling. Apparently, the word originates from 'syll', which was Old English for a horizontal foundation beam.
What is a window sill for?
Let's be honest, we all think of window sills as a useful shelf for plants and ornaments, and maybe something to sit on while gazing out of the window? And it's a well-known fact that the outside window sill in student lodgings often doubles as a fridge – so long as it's deep enough to balance a pint of milk on!
But the main purposes of a window sill are much more basic and structural. Firstly, they provide a solid, flat base for the window frame to sit on. And secondly, they do an important practical job keeping out draughts and moisture.
What are the benefits of natural stone window sills?
The first thing you'll notice, as with all stone products, is the sheer timeless beauty of a room with window sills made of natural stone. But the benefits extend far beyond good looks!
Natural stone options to suit all tastes
Depending on the look you're after, there's a wide choice of different stone options to consider – from marble and granite to limestone window ledges. If there are other natural stone features in the room – for example, stone flooring or a fireplace – you might want to choose matching stone for the window sills. Or maybe go for a bold contrast?
Also, remember that thanks to modern carving techniques and state-of-the-art machinery, your natural stone window sills can be fashioned in any shape you want. From sleek and simple to highly ornate, they can be made to suit any décor, whether you're looking for classic style or cutting-edge cool.
Solid and durable
Unlike wood, natural stone window sills and limestone window ledges are made of tough stuff! Wood can rot and is easily damaged – by damp plant pots, for example, or heavy ornaments. As long as it is properly installed and maintained, natural stone is solid enough to resist damage from most quarters. And it'll last and last, keeping its pristine looks for many decades.
Virtually maintenance-free
Wooden window sills need frequent repainting or varnishing to keep them looking good, and to protect the wood from harmful damp. Natural stone is much easier to look after. Depending on your choice of stone, it may just need an occasional simple sealant re-application to prevent watermarks and scratches. Your stone supplier can advise on the best way to look after your natural stone window sills.
Natural stone window sills – construction or cosmetic
If you're undertaking a construction project from scratch, solid natural stone window sills can be included as part of the design. In this case, one piece of stone provides the interior and exterior window ledges – and supports the window frame.
However, if you're planning a renovation or refurbishment and the windows are already in place, don't worry. It's still perfectly possible to have beautiful natural stone window sills without embarking on unnecessary structural works. Limestone window ledges can be easily fitted over your existing window sills with little or no damage to surrounding décor and plasterwork.
Would you like to find out more about how beautiful natural stone window sills and limestone window ledges could transform your next construction project or room revamp? If so, contact the experts at Stamford Stone for help and advice. Or visit our showroom to see the wide range of stone options available to transform your home, inside and out.