There's no doubt that a bespoke stone staircase can enhance any home – from the grandest of renovation projects to a cutting edge new build. In this article, we talk about some of the key things to consider when choosing a bespoke stone staircase to fit your home.
Stone staircases have been used as a key element in homes and public buildings since ancient times – and many of these still survive today in historic properties that have stood the test of time. Over the centuries, every type of staircase imaginable has been crafted in local stone – from tight winding spiral steps in castle turrets, to grand sweeping stone staircases in palatial country houses.
---
Choices, choices!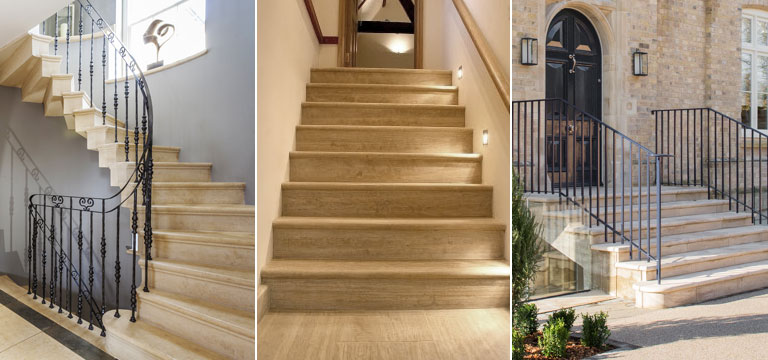 If you're considering including a bespoke stone staircase as part of your next renovation or building project, the choices of design, format, style and construction can be quite staggering. The stonemason's art teamed with sophisticated modern cutting techniques means the same natural stone blocks can be carved in any number of styles and shapes to fit perfectly into any building design and layout.
Help is at hand…
The clue to a bespoke stone staircase is in the name – it can be designed, tailored and hand-crafted to meet your exact requirements. So when you commission a bespoke stone staircase, there are a number of decisions you'll have to make. But don't worry – using their wide experience and expert knowledge, the team at Stamford Stone can help you through the whole process – from initial design and layout ideas to installation of the finished stone staircase, and handy advice on how to keep it looking great.
---
Choosing the layout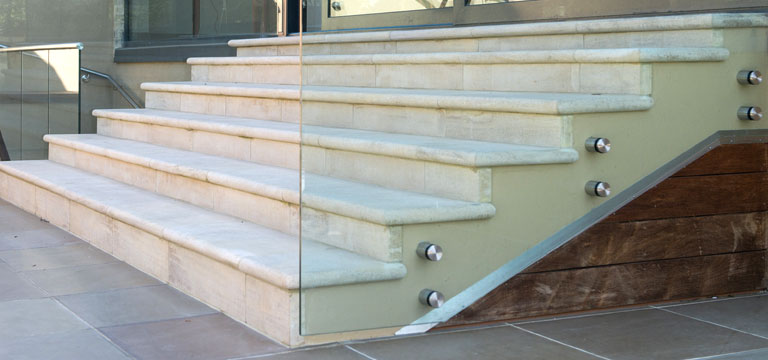 The layout of your bespoke stone staircase will probably be determined by the design of the building, ceiling heights and the shape and size of the rooms or landings at the top and bottom.
Here are the main types of staircase layout, all of which can be achieved with a bespoke stone staircase:
Straight
This is the simplest option – a straight run of stairs from bottom to top

---

Quarter Turn
Also known as 'quarter landing' or 'L-shaped', this is where two straight runs of stairs are divided by a small landing to make a right-angled turn to the left or right.

---

Winder
This older style option achieves the same change in direction as a 'quarter turn' staircase, but without the small landing. Instead, the treads of the staircase at the turning point are wider at one edge than the other (similar to a spiral staircase).

---

Half Turn
This is similar to the 'quarter turn' option but instead of turning at a right angle, the stairs turn a full 180 degrees after the small landing.

---

Spiral
Everyone who's visited an old castle knows this type of staircase – basically it is made up of wedge-shaped steps set around a centre post. Ideal for smaller spaces.

---

Curved
As the name suggests, this type of staircase curves gently round from the bottom of the run to the landing at the top.

---

Split
Also known as 'bifurcated', this is perhaps the grandest type of staircase layout, often seen in large country houses – where a single run of stairs splits off in two different directions part way up.
---
A sum of its parts
A staircase is made up of three main parts – the treads (or steps), the baluster (the verticals that form the sides) and the handrail. With a bespoke stone staircase, the treads are always made of stone, but with the baluster and handrail you have a choice of materials. For the full effect, these can also be made of natural stone, but if you want a more distinctive and modern look, balusters can be of metal, wood or even glass – with a wood or metal handrail.
For inspiration and ideas for your bespoke stone staircase, check out this gallery of beautiful natural stone staircases designed and constructed by the talented team at Stamford Stone.
Getting in touch is easy. You can contact us here, phone us on 01780 740970 or simply call into our showroom at Swaddywell Quarry, open Monday to Friday, where you can see and touch our fabulous natural stone.