A natural stone staircase, designed and handcrafted to fit perfectly with the style of your home, is timeless and beautiful. That in itself is perhaps reason enough to choose a bespoke natural stone staircase – but there are many other advantages too…
---
Long lasting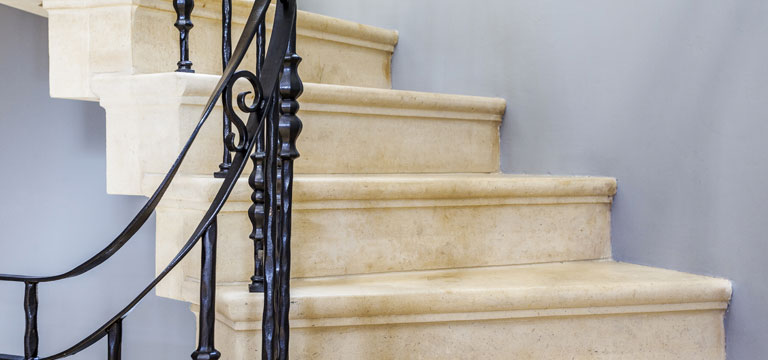 Stone is probably the most durable material that can be used in staircase construction, and it will certainly last much longer than a traditional wooden staircase. Just look at the natural stone staircases in all those ruined castles dotted around the country which have survived many centuries of use – and the odd invasion or two – almost completely unscathed. Yes, some of the stone stair treads in these ancient ruins may be a bit worn down – but that's only after centuries of wear!
---
Easy to maintain
Unlike wood, a natural stone staircase won't rot or splinter. And stone doesn't wear out and need regular replacement like carpeted stairs. To keep your natural stone staircase in perfect condition, it just needs regular sweeping and mopping – and possibly occasional resealing to protect it from stains and scratches.
---
Adds value
The long-lasting durability and classic good looks of a natural stone staircase can be a great way to add value to your home. Every bespoke stone staircase is a statement piece – and a wonderful focal point which will give the 'wow' factor to visitors and potential purchasers alike.
---
Variety of styles
For a rock hard building material, stone is so versatile. Using centuries-old skills teamed with hi-tech modern cutting and carving equipment, master stonemasons can create a natural stone staircase to fit any building style – from traditional carved curves to ultra-modern sleek lines incorporating glass or metal balusters and handrails. Check out this gallery to see how the same basic natural stone can be used to create a multitude of different looks.
---
Soundproofing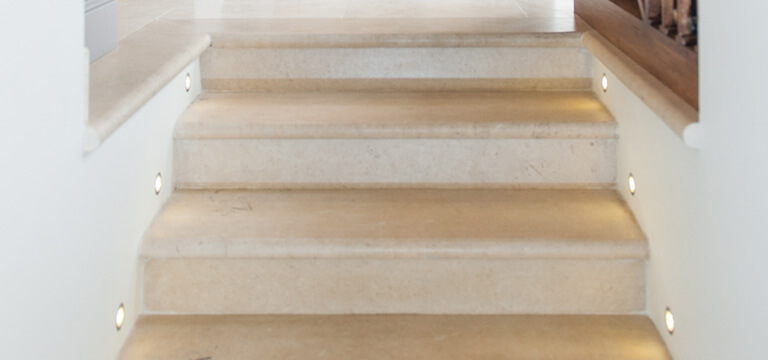 Most wooden staircases are constructed with hollow areas, which can make quite a bit of noise, especially if the younger members of the family insist on running up and down the stairs on a regular basis! Carpeting on wooden stairs obviously deadens the noise – but over time, expansion and contraction of the wood as the stairs settle into their surroundings can lead to annoying creaks and groans. A natural stone staircase is clearly an altogether more solid construction, and you'll feel this every time you use it.
Fireproof
Part of the reason why natural stone is used for staircases in many public buildings is that it is strong and durable – able to withstand constant use by hundreds of people on a daily basis. But another reason is that stone is completely fireproof, providing a trustworthy escape route to ground level in an emergency. Put simply, wooden staircases simply don't match up to the fireproof safety of stone.
---
Good for allergies
For many people, a key advantage of natural stone flooring is that it's much easier to keep clean and free of allergy-producing dirt and dust than many other floor coverings – especially carpet. Stair carpets are particularly tricky because they're hard to vacuum effectively due to all the awkward corners. Like a stone floor, a natural stone staircase is an ideal choice for allergy sufferers.
---
A piece of history
By choosing a natural stone staircase for your home, you're following in the footsteps of homeowners throughout the ages who have reaped the rewards – and benefits – of owning a stone staircase. Whether you want a classic traditional style or an ultra-modern look, natural stone can deliver a beautiful, long-lasting stairway to enhance your home.
---
Why not come and see just how special natural stone can look? You're very welcome to call into our refurbished showroom at Swaddywell Quarry, phone us on 01780 740970 or get in touch here.