For those who are lucky enough to have an outdoor space in their home, it can be nice to try to extend that space into your house. Creating a seamless transition between outside and inside areas can make your house look and feel bigger and lighter. And by bringing some of the outside into your home you can bring that feeling of freshness, space and tranquillity that comes with outdoor spaces to the inside.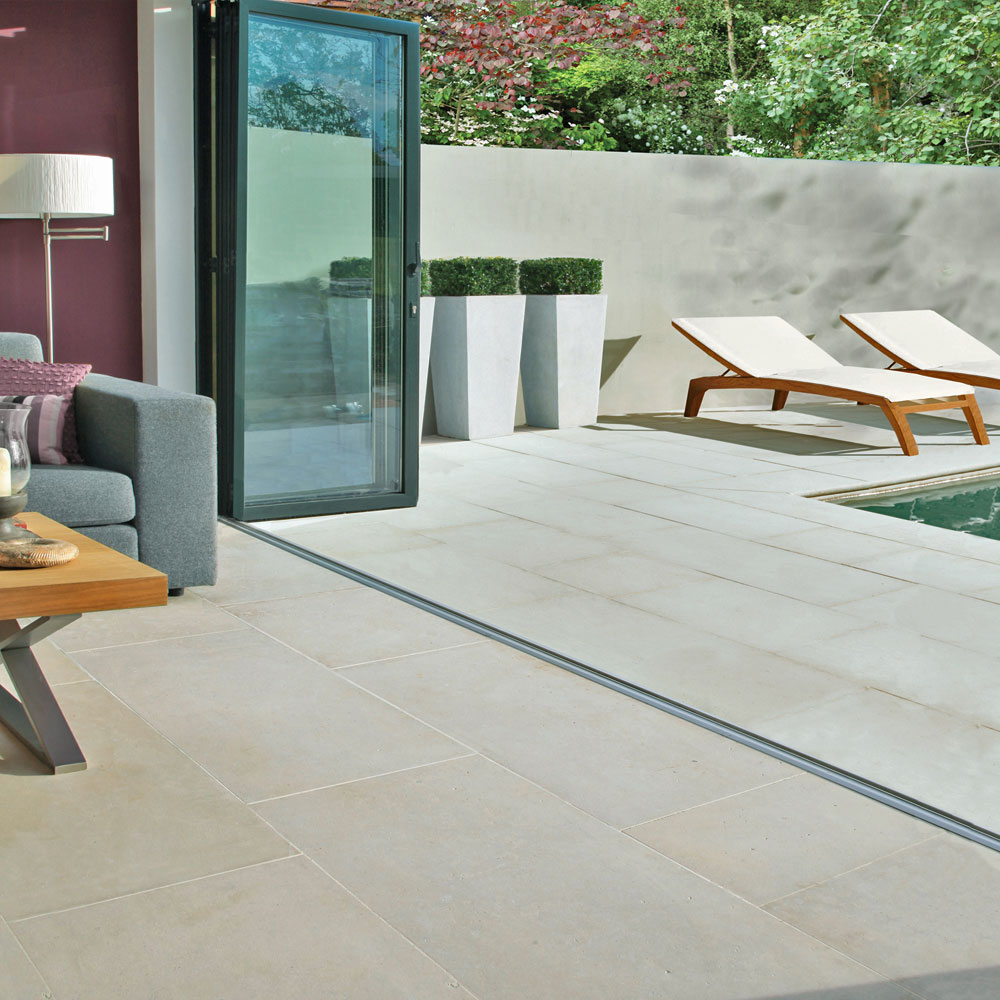 Bi-Folding Doors
One of the best ways to help to smooth the transition between the inside and outside is to fit bi-folding doors. These doors usually involve top to bottom glass to let the maximum amount of light in as well as open smoothly by folding back, allowing the maximum amount of `door gap`. When you open bi-folding doors, you can effectively open the divide between the inside and outside of your home.
Another trick to blurring the inside and outside lines is to use the same flooring in both areas. With no change in the flooring it is more difficult to break up areas into inside and outside, with just one continuous area.
When you are trying to decide what flooring would be most suitable for this type of area, you need to find a flooring which works well for the necessities both inside and outside. Inside flooring needs to be easy to clean, low maintenance and smart enough to work with your home`s interior design style.
Likewise, for your flooring to work outside it needs to be hard wearing, able to withstand the weather extremes and low maintenance. It can be difficult to find flooring types which meet all of these necessities but one great solution is limestone floor tiles.
Why Limestone?
There are a number of different limestone flooring tiles, each with their own distinct properties, but there are limestone types which meet all of the criteria for both inside and outside use.
It is stylish and warm in tone, meaning that it perfectly suits the living area of the inside of a home, as well as able to withstand British winters (and summers) – and is slip resistant for when it rains. Limestone is heard wearing, low maintenance and easy to clean both inside and outside the house.
A combination of natural stone floor tiles such as limestone and bi-folding doors are an excellent way to open up the inside of your home, allowing it to breath naturally and with the addition of some extra plants in your inside space, you can really begin to forget that you are actually inside.
The idea of having a joined inside and outside space is not only great for those who are living there but also when it comes to selling your property. Limestone floor tiles guarantee a good quality flooring that can withstand years of use.
If you are interested in limestone flooring for the inside or outside of your home, why not get in touch with us today?